A Call for Social Work Students in Mine Action
Keywords:
Social Work, Social Work Education, Social Work Field Education, International Social Work, Curriculum Design, Landmines, Explosive Remnants of War, Rehabilitation, Mine Risk Education
Abstract
For too many, physical and psychological trauma are the unfortunate consequences of living in post-
conflict regions where landmines and explosive remnants of war (ERW) continue to litter roads,
farmland, and other critical infrastructure. Master's level social work students can be engaged on
micro, mezzo, and macro levels to assist such victims of conflict by engaging in mine action sector
activities like psychosocial rehabilitation, mine risk education (MRE), and advocacy efforts to
mitigate the effects and eliminate the use of ERW. We propose a field education plan in which
social work students can engage in this vital work through international fieldwork placements. Such
activities benefit international students, local communities and organizations, and the cause they
serve. With fresh ideas and great enthusiasm, students have the potential to not only influence the
course of the global crisis of landmines and ERW, but to reap the professional and personal rewards
of participating
in the international mine action sector.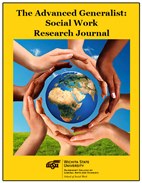 Downloads