Simulation and Interprofessional Education in Social Work Practice
Keywords:
Interprofessional education, simulation, advanced generalist, social work
Abstract
Interprofessional Education (IPE) can be defined as "two or more professions learning with,
from and about each other to improve collaboration and the quality of care" (Hutchings, Scammell, &
Quinney, 2013, p. 359). A theoretical framework for IPE is explored along with various applications for
advanced generalist social work practice. Finally, an IPE healthcare simulation training with a group of
master's level social work students and undergraduate nursing students from Wichita State University is
described, with potential implications for practice and education.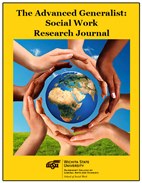 Downloads