Implementing Vocabutoons in the English Language Arts Classroom: Drawing Their Way to Success
Keywords:
vocabulary, middle and high school English language arts, art
Abstract
Although vocabulary acquisition remains a critical to literacy development, teachers infrequently devote classroom time to vocabulary exercises. In this article, the author demonstrates the use of "vocabutoons" as an instructional activity which draws upon students' multiple literacies—in particular, visual literacy—in order to foster vocabulary development. Tooning is based upon the belief that "[p]roficient readers visualize what they read as they construct meaning from a text" (Onofrey & Leikam 682). Representative artwork created by English Education majors enrolled in a young adult literature course at a university in the Midwest will be featured to highlight the tooning process.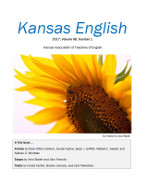 Downloads
Section
Scholarly Articles