"Good Job, Jack"
A Tribute to Dr. Bushman
Abstract
Prof. John (Jack) H. Bushman was a genuine difference maker in the lives of young readers and writers across the state of Kansas and well beyond the borders of the Sunflower State for the past sixty years. The same could be said for so many of the students who ended up in his college classrooms and for the colleagues who were fortunate enough to work with him over the years. Jack had a positive influence on numerous people's lives in the areas of reading and writing, and he left an important legacy in the state and beyond because of his important work in literacy and especially young adult literature. The following tributes will highlight some of the many ways in which Prof. Bushman's legacy continues to impact the work and the lives of his former students, colleagues, and peers—and these stories will serve to honor the work that he did both in and outside of the classroom.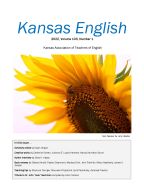 Downloads
Section
Kansas-Specific Articles
License
This work is licensed under a Creative Commons Attribution-NonCommercial-NoDerivatives 4.0 International License.