Mining our Archives: Reflecting on Artifacts to Improve Writing Instruction
Jason J. Griffith

Penn State University

Joshua J. Kornexl

Andersen Junior High, Chandler, Arizona

Jannine Amore

Arizona State University

Alex Hoffman

Arizona State University
Keywords:
autoethnography, writing instruction, writing artifacts, reflection
Abstract
By carefully considering our past, we can better adjust our present to improve our future writing and instruction. This article features the reflections of a former high school English teacher and current undergraduate writing methods instructor along with three pre-service English teachers on writing-related artifacts from their personal archives. The co-authors present teaching principles they have developed after reflecting on which writing-related artifacts they've kept, why they've kept those artifacts, and what those artifacts suggest about how we should teach writing. Finally, the co-authors encourage both students and teachers to engage in a similar reflective process and productively dialogue with our writing pasts.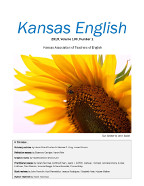 Section
Practitioner Pieces
This work is licensed under a Creative Commons Attribution-NonCommercial-NoDerivatives 4.0 International License.