They, Them, or Human? Jeff Garvin's "Symptoms of Being Human" Charms Readers and Identifies the Humanity in the Misunderstood
Elizabeth G. Vest

Wichita State University
Keywords:
Jeff Garvin, Symptoms of Being Human, book review
Abstract
Jeff Garvin paints an incredible picture of Riley Cavanaugh in Symptoms of Being Human. Riley, of Park Hills, California, is a lot of things: the new kid at school, teenager, (pretty famous) blogger, a flirt, and most importantly, the kid of a congressman running for reelection. Can it get any worse?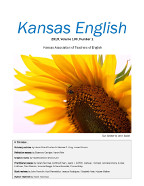 This work is licensed under a Creative Commons Attribution-NonCommercial-NoDerivatives 4.0 International License.