"Bang" by Barry Lyga: A Story on the Complexity of Humanity
Kaylee Walker

Wichita State University
Keywords:
Barry Lyga, Bang, book review
Abstract
A question people like to ask one another is: "If you could go back in time and do something different, would you?" There are no perfect humans. We are prone to make mistakes and the desire to change things for the better lies within us. Barry Lyga's Bang (2017) explores this desire of erasing misfortunes through the eyes of 14-year-old Sebastian in Brookdale, Maryland.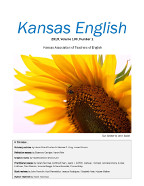 This work is licensed under a Creative Commons Attribution-NonCommercial-NoDerivatives 4.0 International License.