Universal Design for Learning as a Pathway for Accessible Narrative Writing Practices for Diverse Adolescents
Keywords:
accessibility, diverse learners, narrative writing, Universal Design for Learning
Abstract
Equitable learning opportunities are critical for students to meet writing standards. Universal Design for Learning (UDL) is a scientifically based framework for planning and implementing instruction that supports a broad range of diverse learners. In this article, the UDL framework is briefly described, including its principles and guidelines. Vignettes are shared throughout to illustrate how one teacher applied the UDL framework to plan a narrative writing unit for a diverse group of adolescent learners. Adopting the use of the UDL framework during the instructional planning process ensures that instructional practices are centered on student strengths and offer avenues for accessible and equitable learning experiences for all students. This article closes with digital tools that promote 21st century learning and offer a pathway to accessibility.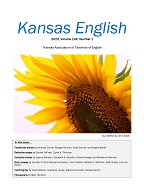 Downloads
Section
Practitioner Pieces
License
This work is licensed under a Creative Commons Attribution-NonCommercial-NoDerivatives 4.0 International License.