Being Born a Crime Didn't Only Happen to Trevor Noah:
A Student Inquiry Project on Criminalized Identities
Keywords:
race, discrimination, Born A Crime, Trevor Noah, memoir, research, identity, writing, reading, ELA, high school
Abstract
Born A Crime, a memoir by Trevor Noah, has been a common addition to high school curricula in recent years. This paper addresses how to effectively teach this complex text and incorporates a research project that allows students to personalize chosen topics. The students who completed the focus work were on-level 10th grade ELA students and the unit took eight instructional weeks. This class met three times a week for two 88-minute blocks and one 44-minute class. The unit was engaging, and the rigor was appropriate for normally developing or advanced 10th grade students. Modifications were made for support-seeking students and those notes are included in this paper. The focus standards for this unit are Common Core W.10.9, RL.10.6, and RI 10.6. Students had access to a variety of academic databases for the research project, their own school-issued computers, and a copy of the memoir.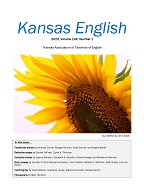 Downloads
Section
Practitioner Pieces
License
This work is licensed under a Creative Commons Attribution-NonCommercial-NoDerivatives 4.0 International License.