Draft Dodging
Learning the Art of Revision
Keywords:
writing, composition, developmental writing, writing process, drafting, editing, sharing literacies
Abstract
While working towards a teaching degree in English language arts, I found myself reflecting on my own education in search of inspiration for how I will teach writing in my future classroom. Through a meta-dialogue, I engage with the idea(s) of being a writer who is also a lifelong learner and a newly converted defendant for the process of revision and how to share that with my students.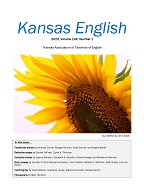 Downloads
Section
Reflective Essays
License
This work is licensed under a Creative Commons Attribution-NonCommercial-NoDerivatives 4.0 International License.